As the population of Australia continues to age, it has never been more essential to safeguard the health, wellbeing, and safety of elderly persons living alone with smart living solutions.
Personal alarm devices like SOFIHUB beacon for the elderly go a long way towards enabling this mode of living. These 4G GPS-enabled wearables can track the behaviour, location, and lack of movement of elderly persons in and out of the home to help family, friends, and first responders react quickly, eliminating the need for hospitalisation and even saving lives.
What is SOFIHUB beacon?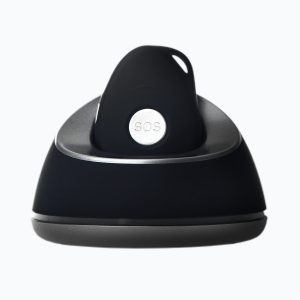 Key Features:
3G/4G Mobile compatible nationwide
Two-way voice calling just like a mobile phone only hands-free for the user.
Designated friends, family, or emergency contacts can call the pendant
GPS and Google Maps-enabled to locate the user immediately
In-built fall detection and automated alert technology
GeoTracking
Programs and instantly calls up to three emergency contacts
SOS button for instant emergency alerts
BlueTooth voice prompting charging cradle (time to put on or charge your beacon)
Waterproof, portable, and lightweight
SOFIHUB beacon is a lightweight, easy to use, and wearable personal alarm system for seniors. These mobile devices help older people to reach for help in case of an emergency or accident by merely pressing an integrated SOS button to call up to three emergency contacts.
This tiny pendant is light enough to wear around the neck or fit in a pocket as it weighs the same as two 20-cent coins. It also works seamlessly with 3G or 4G network coverage countrywide and can immediately send GPS locations and contact up to 3 people simultaneously once when the SOS button is activated.
Furthermore, SOFIHUB beacon has an in-built speakerphone and microphone to allow for quick two-way communication between the user and their emergency contact and comes with fall detection technology that instantly alerts friends, family, or medical contacts in case of incapacitation due to a fall.
The system is also waterproof so it can work whatever the weather or location. It is also rechargeable in case of a power outage and for the ultimate peace of mind.
How SOFIHUB beacon Can Enhance the Safety of Your Elderly Loved One Safe
Fall Detection Technology
The elderly are susceptible to falls, and in many cases, these can be fatal. Each year, 30% of adults over 65 experience one fall, and in 2016-17 over 100,000 people were hospitalised because of a fall.
SOFIHUB beacon is a virtual smart living device in fall prevention for a loved one. It comes with an in-built accelerometer that instantly detects when someone has had a fall. As it has adjustable sensitivity to suit all ages of users, it can send an alert SMS within seconds of a fall and what's more, follows up swiftly with a voice call as an added safety measure.
This way, you can rest assured that your elderly loved one will be attended to in good time should they lose balance, minimising any injuries and the need for hospitalisation.
Instant Emergency SOS Alerts
Older adults living alone, grapple with the reality of deteriorating mental and physical health. Whether it's diabetes, arthritis, loss of muscle power, Alzheimer's, Parkinson's disease, MS, and other chronic conditions, seniors need constant monitoring to help them in case, they succumb to the symptoms of any one of these conditions.
There's always a chance that you or your loved one could encounter a worrying situation. SOFIHUB beacon comes with an integrated SOS button that when pressed instantly notifies caregivers, family, and friends of an uncomfortable or dangerous moment. This wearable device is the epitome of smart living; it will alert and call up to three programmed emergency contacts to ensure that help arrives at the user in next to no time.
Two-Way Voice Calling
SOFIHUB beacon personal alarm for the elderly is world-class in its ability to allow for two-way voice communication in the case of an incident or accident. This feature further reassures the user that they are being heard by their emergency contact and allows both parties to communicate using the microphone and speakerphone in the same way that they would with a mobile phone whilst being completely hands-free for the wearer.
As it comes with nationwide 3G/4G network coverage, users can be reached wherever they are. This safety feature is essential when ascertaining the exact help the user needs to update first responders if they are required.
GPS Tracking
This device is Google Maps-enabled to locate wearers inside and outside the home instantly. It can immediately send the GPS location of the user and call up to three emergency contacts at once when the SOS button is activated.
Geo-fencing
SOFIHUB beacon also manages the movements of the user by enabling geo-fencing. Carers and designated family members can program and manage safe zones that best suit the user with what is known as a "Virtual Geo fence."
Save specific routes like shopping routes or visits to the doctor in the system so that carers using the SOFIHUB portal can identify movements that are within the norm.
As soon these movements deviate, and the user leaves designated safety zones, carers and family members will immediately receive a notification to the SOFIHUB online portal or mobile app, allowing them to view the user's real-time location and movements.
As it has a built-in speakerphone and microphone communication between the user and their emergency contact in an incident is seamless. If the user is disabled outside, the device is also waterproof, which maintains its integrity.
How to Get SOFIHUB beacon
SOFIHUB beacon has proven vital in keeping elderly loved ones living alone safe and has helped to enhance their independence and self-esteem. During this coronavirus pandemic, when visiting the elderly is not recommended, these devices have saved lives with loved ones still being able to keep an eye on their family members, albeit from a distance.
Contact SOFIHUB today to learn more about how you can get the SOFIHUB beacon for your senior loved one and how it can keep them safe in these uncertain times.