Australia's population is aging, but the number of people working in aged care is decreasing. According to a CEDA (Committee for Economic Development of Australia) report, the senior care industry is facing a worker shortage and requires an additional 17000 workers to supplement its 240,000-strong workforce.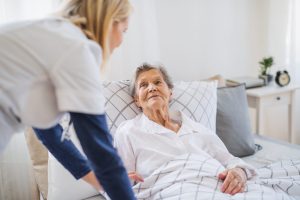 Several factors contribute to the labour shortage in this industry segment:
Migrant workers make up 30% of the workforce in the aged care industry. Because of the pandemic, visa and border restrictions have slowed the entry of these workers into the country, resulting in a significant worker shortage.
Another reason for the labour shortage is high attrition and employee turnover. The increasing average age of residents, combined with low wages and a shortage of migrant workers, has strained Australia's already overburdened healthcare infrastructure. The average age of residents in nursing homes is 80, up from 55 twenty years ago.
As people get older, their demands become more complex. Residents require physical care, mobility assistance, and medical treatment, as well as help with bathing, washing, and grooming.
This calls for increased skills that most current employees lack, leaving senior workers to do the heavy lifting. Current training does not compensate for caregivers' lack of knowledge, which leads to staff (even senior members) questioning their level of competence.
Staff shortages and a lack of training are disastrous for aged care facilities.
Apart from being at a higher risk of contracting illnesses like hypertension, diabetes and cardiovascular illnesses…
Issues with gait and mobility limit seniors' ability to move freely and could even lead to falls – which can be severe and sometimes fatal.
One in 3 people aged 65 years or older fall each year. Falling is a serious health risk for the elderly and can cause broken bones and brain injuries.
The problem is particularly severe in aged care facilities.
Studies show that up to 50% of older people living in residential aged care services fall every year, with 40% experiencing recurrent falls.
Falls not detected in time can even lead to dehydration and hypothermia.
Caregivers work long hours and have little time to monitor residents' health or rush to their aid in an emergency.
While increasing the number of healthcare workers might seem like the natural thing to do… it cannot guarantee that seniors will receive aid quickly.
Fall detection devices, such as the eazense Powered by SOFIHUB, can benefit aged care businesses in several ways.
For one, it reduces the time to assist in case of an emergency.
eazense is a radar sensor offering passive, real-time falls detection for the elderly without the need for a wearable. It detects records and logs activity in a room and notifies carers in case of anomalies.
Anomalies could include irregular movements such as falls, seniors who do not return to their beds in time, or seniors who leave their rooms and do not return. Since it doesn't make use of cameras, the eazense does not invade the privacy of residents.
Besides fall detection, eazense in the future will monitor vital signs and alert caregivers if values breach thresholds, reducing the need for regular health monitoring.
eazense provides residents with security while preserving their independence and privacy.
For caregivers, it reduces the number of unnecessary visits, resulting in significantly lower healthcare costs for aged care businesses.
Leading fall detection devices in Australia, such as eazense, enable aged care facilities to provide care when it is most needed, reducing workload and helping to streamline worker resources.
Visit SOFIHUB to know more about the eazense.