According to the Aged Care Royal Commission report, the number of Australians aged 85 and over will exceed 1.5 million (3.7 percent of the population) by 2058 – an increase of 1.7 percent from 2018-19.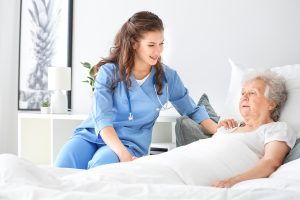 What does this mean for the aged care industry?
As the population ages, there will be greater demand for specialised care, medical treatment, and mobility assistance.
With Aged Care Quality standards holding care agencies (funded by the Australian Government) accountable to the highest levels of service, aged care facilities must ensure that they consistently operate at a high level of excellence.
While it appears that expanding its workforce is the logical thing to do, recruitment, while one of the top priorities, is not the only issue that the aged care industry faces.
A   NACWCS 'residential care' worker survey yielded some interesting results regarding future work plans and factors influencing job satisfaction.
At least 10% of those polled intended to move into other roles in aged care to advance their careers, including attempts to advance to managerial positions.
Working with and interacting with their clients was the most rewarding experience for caregivers. Many of them enter the profession because they enjoy what they do and want to make a difference in the lives of older people.
Good relationships with coworkers were another important factor that contributed significantly to job satisfaction. Caregivers viewed being part of a friendly team of staff who collaborated to provide quality care as an important aspect of the job.
However, despite their enthusiasm for the job and willingness to go above and beyond the call of duty, most care workers cited heavy workload and time constraints as the primary sources of job dissatisfaction, couple this with the impact of COVID and it's not hard to understand why many are leaving the profession.
As the average age of residents rises (now 80, up from 55 20 years ago), they become frailer and more likely to develop comorbidities such as dementia, hypertension, diabetes, and cardiac illness, necessitating specialised care and medical treatment.
Growing frailer increases their chances of falling, which can cause broken bones and brain injuries.
Falls not detected in time can even lead to dehydration and hypothermia and impact long-term mental health.
In some cases, caregivers lack the necessary training to provide such high levels of care. Inadequate staffing levels and a lack of time allotted to tasks impede their ability to provide quality care even further.
Workers reported being unable to spend enough time with their clients, being forced to work extra unpaid hours, being unable to take breaks or leave, and failing to follow stipulated health and safety protocols while managing complex care cases.
Caring for patients through illness, witnessing their suffering through palliative care, and coping with the sometimes unrealistic demands of the patients' families all take their toll, leading to job dissatisfaction.
Caregivers are further frustrated by a lack of career advancement and pay scales that do not match the level of responsibility they are required to handle, leading them to resign or seek work in other areas of care.
Overworked and stressed caregivers have on occasion resorted to inexcusable behaviour, such as neglecting and physically assaulting residents, which led to the Government establishing an Aged Care Royal Commission inquiry into Aged Care Quality and Safety.
This brings us to the question: How can you reduce employee turnover?
Strategies could include:
Training programs that teach caregivers specialised skills for managing complex care cases, particularly those with dementia and those who require medical attention and mobility assistance.
Establish hiring policies to ensure adequate staffing levels.
Create shift schedules that ensure caregiver presence across time zones while avoiding the need for caregivers to work double shifts.
Offer counseling sessions to employees who feel stressed or unable to cope with the physical, mental, and emotional demands of their jobs.
Finally, an increase in government funding can ease many of the hiring concerns and ensure adequate staff-to-patient ratios.
While the suggestions above can help improve workforce conditions, the adoption of technology is a strategy that will produce results right away…
Technology – in the form of eazense Powered by SOFIHUB.
eazense is a radar sensor offering passive monitoring of residents and real-time fall detection without requiring residents to wear or do anything differently.
It monitors them non-intrusively (without the use of cameras) and performs a wide range of functions such as:
Fall detection
Constantly tracking body position
Monitoring the presence of people in a room
When it detects anomalies, it notifies carers, allowing them to respond immediately. Anomalies include a resident who suffers a fall, vital parameters that have breached thresholds in either direction, seniors who haven't returned to their beds, and other situations that demand a worker's immediate attention.
eazense provides residents with security while preserving their independence and privacy.
For caregivers, it reduces the number of unnecessary visits, resulting in significantly lower healthcare costs.
Caregivers can use the extra time to engage in more productive work, which can make them happier and more inclined to stay in their current jobs.
Technology solutions like eazense allow residential facilities to provide care when it is most needed and make it easier for them to adhere to the aged care standards laid down by the Australian Government.
Visit SOFIHUB to know more about eazense.
————
https://www.health.gov.au/health-topics/aged-care/providing-aged-care-services/delivering-quality-aged-care-services
https://agedcare.royalcommission.gov.au/system/files/2020-06/RCD.9999.0176.0001.pdf