While wearing medical alarms do not prevent accidents and injuries, they do help medical personnel and caregivers to reach users sooner, changing the outcome for users.
Seniors living alone aren't always equipped to handle an emergency, such as the onset of a chronic condition or a fall on their own. Medical alarms like SOFIHUB beacon have given family members and caregivers a viable option to handle the care of their loved ones.
These wearable devices assist caregivers by providing seniors with a way to call for help with just the touch of a button, ensuring that timely assistance is always within reach. Knowing that help is available around the clock makes caregivers and family members feel more comfortable about leaving their elderly loved ones home alone, and gives users a security blanket and added peace of mind.
What is SOFIHUB beacon?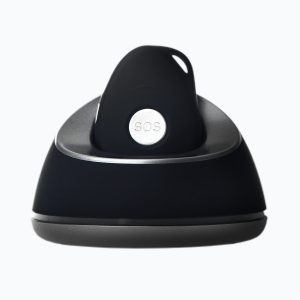 Key Features:
3G/4G countrywide network coverage
Built-in fall detection and automated alert technology
GPS-enabled for instant user location
SOS button for instant alerts
Geo Fencing
Two-way voice calling and voice-activated SMS
Up to three programmable emergency contacts
BlueTooth voice prompting charging cradle (time to put on or charge your beacon)
Waterproof, portable, and lightweight
Caregivers are intimately involved with the management of many older adults' health, and medical alarms offer valuable features to help both them and designated family members track and monitor the health and wellbeing of seniors in their care.
Medical alarms like SOFIHUB beacon instantly alert family members and carers when the senior press the SOS button. In the event of a health emergency such as a cardiac arrest, burglar intrusion, or house fire, these devices come with built-in fall detection technology and other alerts that trigger an SOS call.
Concerned caregivers can make their way to the senior's location immediately courtesy of the in-built GPS capability and be there to assist when medical first responders arrive. These systems also feature companion portals that enable designated individuals to sign in and check on the location, behaviour, and movement history of the senior wearing the device. In case of unusual movements or actions, carers can instantly send a voice-activated SMS or call making it seamless to maintain contact between them and the senior under care.
How Medical Alarms like SOFIHUB beacon Make Home-based Care Easier
SOFIHUB Portal
SOFIHUB beacon medical alarm comes with the online SOFIHUB portal that allows carers to instantly see the live GPS-enabled location and location history of the user. These portals also enable carers to adjust the beacon features.
The SOFIHUB portal can be accessed from a PC or using a mobile device and the SOFIHUB iOS and Android app.
GPS Tracking
SOFIHUB beacon is not just a medical alarm but also a personal tracking device.
What makes this device one of the best medical alarm systems in Australia is that it is lightweight (which makes it wearable), easy to use, and durable (weatherproof).
It features 4G GPS technology and is compatible with 3G/4G countrywide network coverage that makes it one of the most reliable tracking devices in the country. It also comes with an in-built speakerphone and microphone for two-way voice communication whatever the user's location, independent of if they're inside a building or in the outdoors.
SOFIHUB beacon is invaluable when it comes to giving all users and their designated carers complete peace of mind.
Geo-fencing
SOFIHUB beacon also manages the movements of the user by enabling geo-fencing. Carers and designated family members can program and manage safe zones that best suit the user with what is known as a "Virtual Geo fence."
Save specific routes like shopping routes or visits to the doctor in the system so that carers using the SOFIHUB portal can identify movements that are within the norm.
As soon these movements deviate, and the user leaves designated safety zones, carers and family members will immediately receive a notification to the SOFIHUB online portal or mobile app, allowing them to view the user's real-time location and movements.
Rechargeable Medical Alarms
SOFIHUB beacon is perhaps one of the few medical alarms that are rechargeable. This feature makes them invaluable in case of a power outage.
The device comes with a Bluetooth charging station that includes active voice-activated reminders. All the user needs do is dock, charge, and wear the alarm, which means they'll never forget to take it with them and it won't stop working as they go about their activities.
Get SOFIHUB beacon Medical Alarm Today
SOFIHUB beacon medical alarms have several benefits for people needing home-based or assisted-living-facility care, particularly when it comes to enhancing healthcare monitoring, user safety, user security, and service delivery.
This system has helped to reduce the number of hospitalisations, promoting peace of mind in users and family members and making the job of a carer much easier. SOFIHUB's software support and online portal also streamline care delivery as they are accessible by more than one carer, which promotes continuity and safeguards the type of care the user receives.
Give SOFIHUB a ring at 1300 110 366 or contact us online to learn more about how to get the SOFIHUB beacon.